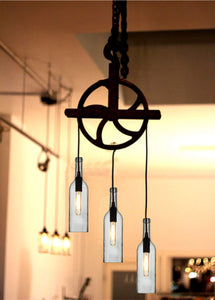 A beautiful suspended lamp made from an antique 12" pulley (16" x 18" overall) with 3 wine bottles with the bottoms cut out. Comes with a nice big hook to hang on the ceiling and a short piece of chain. The wine bottles have easy access to change light bulbs. This lamp will take any type of light bulb as long as it fits in the bottle. LED bulbs are recommended for the heat.
Available with any type of wine bottles.
Materials: Metal, Glass.